Entwickle deine berufsrelevanten Skills!
Legal Lectures
Erweitere dein juristisches Wissen und Soft Skills
Durch akademische Vorträge und Praxistage gibt ELSA Austria Studierenden der Rechtswissenschaften und des Wirtschaftsrechts die Chance, verschiedene juristische Themenbereiche vertiefend kennenzulernen und die dabei auftretenden Fragen von Profis aus der Praxis beantwortet zu bekommen. Legal Vorträge werden unter anderem zu hochaktuellen Themen gehalten wie beispielsweise Cyber Law abgehalten.
Legal Insights
Lerne deinen zukünftigen Arbeitgeber beim Essen kennen
Bei den Legal Insights haben StudentInnen die Möglichkeit einen ersten Einblick in den juristischen Alltag zu bekommen wie bei Breakfast@Law Veranstaltungen.Ein Breakfast@Law dient dazu, dass Studierende in gemütlicher Atmosphäre bei einem Frühstück einen Einblick in die jeweilige Kanzlei, die ein solches Event veranstaltet, bekommen und sich mit den Partnern der Kanzlei sowie untereinander vernetzen.
Du möchtest ein internationales Praktikum absolvieren?
Was sind ELSA Traineeships?
ELSA bietet ein Auslandspraktikumsprogramm, das den Namen ELSA Traineeships (früher: STEP – Student Trainee Exchange Programme) trägt. Studierenden der Rechtswissenschaften und auch jungen Jurist*innen wird die Möglichkeit geboten, ein juristisches Praktikum im Ausland zu absolvieren. So können ELSA Mitglieder sowohl ihre juristischen Kompetenzen erweitern als auch neue Kulturen kennen lernen und Sprachkenntnisse vertiefen.
Wie ist der Ablauf?
Die Auslandspraktika sind größtenteils vergütet und können von 2 Wochen bis zu 2 Jahre dauern. Schon bei der Bewerbung steht euch eure ELSA Gruppe zur Seite und auch bei der Unterkunftssuche und während eurem Auslandsaufenthalt werdet ihr von ELSA betreut.
Wie kann ich mich bewerben?
Die Bewerbungsphase findet zweimal im Jahr statt. Nähere Infos folgen oder können bei dem*der jeweiligen Vice President in charge of Professional Development der
Fakultätsgruppe
sowie bei
ELSA Austria
nachgefragt werden.
Sammle internationale Erfahrungen
ELSA bietet dir die einmalige Chance
USA, Venezuela, Europa – wir bieten dir Praktika auf der ganzen Welt.
Verbessere deine Sprachfähigkeiten
Direkt im jeweiligen Land
Verbessere deine Sprachfähigkeiten direkt vor Ort – Englisch, Spanisch, Griechisch, für jeden ist etwas dabei.
Sammle Arbeitserfahrung
Erweitere deine Arbeitserfahrungen
Bei ELSA Traineeships ist für jeden was dabei – von frischen Studierenden bis Absolvent*innen, das richtige internationale Praktikum ist für dich bestimmt dabei.
Lerne neue Kulturen und Freunde kennen
Erweitere deinen Horizont
ELSA Traineeships ermöglichen dir neue Freunde und Kulturen kennenzulernen. Vor Ort wirst du vom ELSA Vorstand gerne unterstützt und es erwartet dich ein Netzwerk an ELSA-Mitgliedern.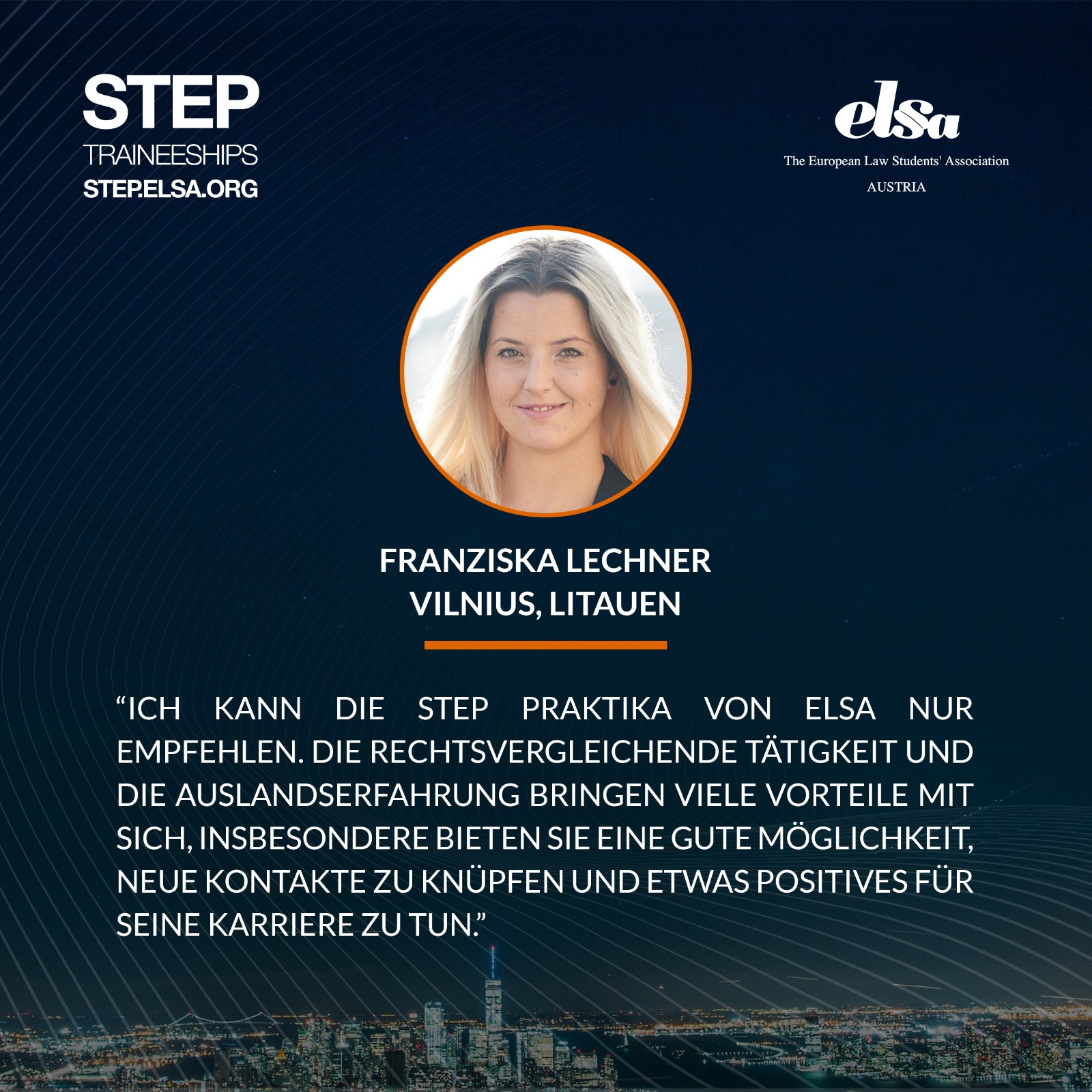 Ein ELSA STEP Praktikum bietet dir die Möglichkeit, ausländische Praxiserfahrung zu sammeln, die dir unheimlich weiterhilft, persönlich als auch akademisch, nicht gesprochen von der positiven Resonanz bei zukünftigen Arbeitgebern.
Das Praktikum war eine unglaublich wertvolle Erfahrung. Es ist sehr spannend, die Arbeitsmoral und -einstellung eines Praktikumanbieteres aus einem anderen Land kennenzulernen. STEP gibt dir die Chance, vielfältige Erfahrungen zu sammeln. Also ich kann es jedem empfehlen.
I thought that my STEP would be something ordinary. However, it turned out to be extraordinary. Professionalism from both, the employer and the ELSA Hosting Group – Friendly atmosphere – Practical implementation of my LL.M.'s theoretical knowledge and Contacts; this was the outcome of this traineeship. The process remains the same, but it's always the people that change; and this made the difference. Arendts Anwälte was one of the most professional offices I have ever seen, always with a friendly and engaging work environment. I was not only a trainee but I became part of their "family" at work. On the other hand, ELSA Munich was really taking care of me throughout the whole month and was trying to make me feel at home. I can only recommend such experience, since STEP is enhancing both, your professional and interpersonal skills, your future career and your international contacts!
My one-month traineeship in Popov & Partners Law Office in Sofia was a great experience, as it taught me many things (researches, tasks, various fields of law etc). Most of all, my ELSA STEP experience gave me the chance to make a big "STEP" forward and work with professionals, adapt in new working environments and obtain qualities as discipline, programming skills, quick decision-making and many more. I am fully satisfied!!!!
Nothing broadens our minds more than travelling and meeting other people. There is nothing better when travelling can be combined with a working experience. ELSA STEP gives us young lawyers across the Europe both possibilities at one time! Great chance and a life lasting experience.
As a former ELSA STEP Trainee, I cannot stress out enough the confidence that this experience offered me. Not only am I now capable to say that I can survive in any foreign working place, but I can guarantee that I will be further pursuing such workplaces. The ELSA Organisation demonstrated once again the professionalism that is attributed to them and made me feel welcome and sure about my choice. As far as the skills I gained from this traineeship, I treasure specifically the social skills that came by while working in a foreign language office and having to communicate daily with people from a different culture on their own language. In addition to this, I experienced living in a beautiful city for one month and learnt how to transition fast and effectively. All of this could not have happened without the guidance of ELSA Austria and ELSA Graz representatives to whom I feel grateful about it.
I am really happy I got selected for the traineeship in Brno, Czech Republic. Not only was it the first time visiting this beautiful city, but also I feel like I learned a lot and got the feel how a foreign law office operates. I am of the opinion that you really get to know yourself when travelling alone. Living abroad is not just fun and games, you have to overcome many challenges along the way, face your fears and not to be afraid of failure. In the end, you come out stronger than ever. It really is a lesson for life. That is why I am grateful for this one-of-a-kind experience and would like to thank ELSA Brno again for being part of this journey, making it even more special and unforgettable.
"Nächster Halt: Schwaz." (in English: "Next stop: Schwaz"). I wake up from my day dreaming to a sharp, German speaking female voice and take my gaze away from the scenery outside the train. Although the voice has become familiar to me during the last four weeks when traveling between my new summer home and work place I can never get enough of the landscape flashing by the window: blue mountains glimmering in the morning dawn, frisky swallows playing in the air, traditional Tyrolian houses that looked like the witch's hut in the children book Hansel and Gretel. Once again I remember how lucky I am to be selected for a traineeship in Tyrol, Austria. Before I started studying I spent most of my gap years abroad. My only fear with studying law was that it might be hard to travel as law is quite specific to each country. However, after studying law for just two years in Finland, I found myself participating in the traineeship programme STEP run by the European Law Students' Association (ELSA) and working in a district commission (in German: Bezirkshauptmannschaft) in Schwaz, Austria. It was also beneficial to go abroad via ELSA: the local representative for the STEP programme has been in contact with me since I was selected. It made me feel comfortable to know someone was waiting for me in Austria. She also introduced me to my employer on the first day and would have organised the accommodation for me too. Luckily I had a good friend in Tyrol whose parents hosted me for a month. All in all, it was a great choice to participate in the traineeship programme via ELSA because I know whatever happens, I am not alone. And how do I spend my free time? I enjoy the mountains, of course. Hiking, climbing, paragliding… "Emmi, the world is so beautiful," a father of a good friend of mine tended to say. "You've better go and explore it!" And that's exactly what I am doing now.